About The Club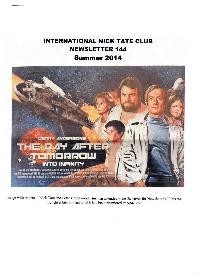 The International Nick Tate Club is the official international fan club for Nick Tate and as such has his full approval and active interest. The club was founded in 1976 and is a non-profit making organisation.
Upon joining the club new members each receive a copy of the two most recent newsletters, colour photos of Nick, a printed membership card, Nick Tate's biography and his career details, Alan Carter's official biography, a list of items for sale such as fanzines, back issues of newsletters and stationery. After this each member will then get four newsletters a year. When the year ends you will be invited to renew your subscription and if you renew your subscription you will receive a different photo of Nick and an updated membership card.
Our quarterly newsletter features the latest information on Nick, both on his acting and professional career and his personal life. There are messages from Nick; he will even answer questions put by members in the newsletter! The newsletters also feature news and advertisements for events in the science fiction world, features written by members, encounters with Nick, reviews of his work past and present. Members can also have their addresses and details printed in the newsletter if they wish to find a pen-pal.
We really hope you will decide to join our club. You may use the Membership Form on our site.
If you have any questions please e-mail Phyll at admiral1805@blueyonder.co.uk or write to the address at the head of this web page. If you write, please remember to enclose a stamped, self-addressed envelope or if you live outside the United Kingdom a self addressed envelope plus two international reply coupons.
The International Nick Tate Club is a non-profit making organisation and acknowledges the rights of all copyright holders.